Articles by Mridula Shankar, Upendra Bhojani, and Pietro Dionisio.
August 24, 2015–Vice News
"Medical errors happen everywhere. But in the world's largest democracy, stories of doctors being drunk, using rusty instruments or bicycle pumps during surgery, or ordering unjustified procedures are increasingly common.
Now hard data is emerging that show how dismal medical care is for many in India, with providers routinely failing to diagnose common disease and frequently prescribing useless and hazardous drugs"
August 14, 2015–The Indian Express
"A recent Reuters investigation revisited the fraud and corruption in medical education in India, and the threatening comeback of the man commonly blamed for this decline: Ketan Desai. Desai, a former president of the Medical Council of India (MCI), faces charges of receiving bribes in return for approvals from private medical colleges. But the Indian Medical Association has backed his bid for leadership of the World Medical Association (WMA), which set ethical standards for physicians all over the world."
February 28, 2015–Reuters
India's Finance minister presented the Union Budget 2015-16 in New Delhi, and the amount that is allocated to health is slightly lower than last year. On the plus side, it does include plans to set up five AIIMS  institutes in Jammu & Kashmir, Punjab, Tamil Nadu, Himachal, Assam, and another AIIMS-like institution to be set up in Bihar.
AIIMS–All India Institute of Medical Sciences Delhi–is a medical college and medical research public university based in New Delhi, India. The Institute was established in 1956 and operates autonomously under the Ministry of Health and Family Welfare. AIIMS. There are currently six AIIMS, plus the original in Delhi.
New Minister of Health and Family Welfare
On November 9, 2014, Jagat Prakash Nadda was announced the new Union Health Minister.
November 5, 2014–Times of India
Replacing white rice with brown rice in your diet can help reduce the risk of developing Type 2 diabetes. Says Mickey Mehta, "Like wheat, brown rice is also a type of whole-grain. Organically grown wild brown rice is the best as it is packed with all the essential nutrients and vitamins."
With aim to end tuberculosis by 2020, Harsh Vardhan announces free treatment for all
October 28, 2014–Press Trust of India/Economic Times
On October 28, Harsh Vardhan, India's Union Health Minister, announced 'TB-Mission 2020', a plan to eliminate tuberculosis from the country. Efforts are being made by the Indian government to provide free diagnosis and treatment as well as nutrition support and relevant financial enablers to the patients from government and private hospitals, he added. See complete article.
Fastest decline in child mortality rates witnessed
September 16, 2014–The Hindu
"India has shown significant reduction in neonatal mortality in the last two years. Every year [since 2009 when the rate was 34] we have reduced the rate," Dr. Ajay Khera, Deputy Commissioner and Public Health Expert, Child Health Programme, Ministry of Health and Family Affairs, India said. "In 2010 the [neonatal mortality] rate was 33, in 2011 it was 31 and in 2012 it dropped two points to 29."
"The government has accorded highest priority to improving newborn health and it has come out with special interventions to improve newborn survival," he said.
The four interventions to reduce neonatal mortality have been:
the promotion of institutional deliveries by providing conditional cash transfer to pregnant women.
the establishment of newborn care corners. There are currently 14,000 such care corners, roughly three or four per district. The newborn care corners provide immediate care for newborns to further improve their chances of survival.
the establishment of special newborn care units. The special newborn units care for babies that have very serious conditions.
the home visits of newborns by Accredited Social Health Activist workers. During home visits, the ASHA workers educate the mothers on breastfeeding, the importance of keeping the babies warm and also identify sick newborns and refer them to units where they can get admitted.
Read more details and about areas of concern in the article by R. Prasad.
Deadliest Encephalitis Outbreak in a Decade
July 29, 2014–gulfnews.com
Encephalitis is sweeping across northern India this monsoon season, with officials worried it could be the deadliest outbreak in nearly a decade.
The recent outbreaks of encephalitis, or severe inflammation of the brain, have killed around 550 people in India this year and the toll is likely to rise, officials have said.
The states of Uttar Pradesh (UP), Bihar, Assam and West Bengal are the worst hit.
"This is a seasonal disease as the onset of the monsoon makes the virus more deadly, but cases of encephalitis were being reported from the region as early as January. Had the states taken preventive measures then so many people would not have lost their lives," said an official of the Union Ministry of Health and Family Welfare.
Read more here.
Tobacco Use in India a Costly Burden
July 9, 2014–The New Indian Express
"An economic burden of 1.15 percent of GDP is caused by tobacco use in the country. People tend to ignore indirect and invisible costs resulting from the use of tobacco, said K Ellangovan, secretary, Health and Family Welfare Dept.
'In 2010, it has been assessed that in India, 35 percent of people use tobacco and the majority below age 49. Hence, the government cannot ignore this. A multi-pronged approach is required to bring tobacco use under control,' [the secretary of the Health and Family Welfare Dept.] said."
See the article in its entirety here.
Indian-American doctors focus on giving back to India
July 1, 2014–One of the largest ethnic organisations in the US representing about 100,000 Indian doctors settled here is focusing on enhancing collaboration among physicians of Indian Origin across the world and India. The India focus of the American Association of Physicians of Indian Origin (AAPI) was highlighted as the mantle of leadership passed on to its new president Dr. Ravi Jahagirdar at their annual convention here that was attended by India's new health minister, Dr Harsh Vardhan. Jahagirdar was administered the oath of office by outgoing president Dr. Jayesh Shah during the presidential gala here Saturday at the just concluded 32nd annual convention of AAPI attended by nearly 2,000 delegates from across the US. Harsh Vardhan flew in from New Delhi to be part of the five day AAPI convention at the Grand Hyatt Henry Gonzalez Convention Centre in San Antonio, Texas, one of the fastest growing and the 7th largest city in the US.
Read more here.
Source: IANS (The Indo-Asian News Service)
Sun Pharma recalls 200 vials of cancer drug – FDA
Reuters July 3–India's Sun Pharmaceutical Industries Ltd is recalling 200 vials of the chemotherapy drug gemcitabine in the United States due to a lack of assurance of sterility, the U.S. Food and Drug Administration said on Thursday.
The drug being recalled was manufactured by Sun Pharma's unit Caraco Pharmaceutical Laboratories Ltd at its plant in the western Indian state of Gujarat, the FDA said in a post on its website. (1.usa.gov/1o3E8fS)
The voluntary recall was initiated in April and was classified by the FDA as Class II, meaning that use of or exposure to the recalled drug may cause temporary or medically reversible adverse health consequences.
Center for Global Health at the Massachusetts General Hospital Launches CAMTech INDIA
USAID-supported program unites clinicians, engineers and business to improve health of women and children in India
Bengaluru, INDIA, June 23, 2014 – The Center for Global Health at the Massachusetts General Hospital (USA) today announced the launch of CAMTech INDIA, an initiative to catalyze the development and adoption of new technologies to address preventable causes of death among women and children in India. As a public-private partnership, CAMTech INDIA convenes a diverse network of innovators across public health, engineering and business to target pressing, unmet clinical needs in reproductive, maternal, newborn and child health (RMNCH). The initiative is supported by the United States Agency for International Development (USAID/India), the Omidyar Network, and the Bacca Foundation.
"CAMTech INDIA will bring together a powerful network of innovators in India who are passionate about developing life-saving technologies to benefit women and children," said Elizabeth Bailey, Director of the Consortium for Affordable Medical Technologies (CAMTech). "We have a laser-focus on the urgent clinical needs of women and children in India, because meaningful health technology innovation starts with a clear understanding of the medical context."
Learn more about Hack-a-thons:
Hack-a-thons Aren't Just for Coders. We Can Use Them to Save Lives
An initial $2 million USD investment for CAMTech INDIA will support four key activities. In addition to Clinical Summits and Medical Technology Hack-a-thons, Innovation Awards draw on the broad pipeline of RMNCH technologies in India and provide seed funding to determine clinical impact, technical feasibility and commercial viability. The Accelerator Program provides ongoing mentorship to entrepreneurs to remove barriers to successfully deploying new technologies into clinical environments.
CAMTech INDIA will draw on the expertise of many local partners. Glocal Healthcare, which runs a chain of rural hospitals in India and houses its own Medical Technologies Division, will be CAMTech INDIA's implementation partner for Clinical Summits and Hack-a-thons. InnAccel, an incubator for affordable medical technology ventures in India, will serve as CAMTech INDIA's Accelerator partner. Other key partners include the Public Health Foundation of India, the Lata Medical Research Foundation, Narayana Health, and Vellore Institute of Technology in India; MIT's H@cking Medicine and Harvard Medical School in the US; and Mbarara University of Science and Technology in Uganda.
For more information on partners and CAMTech, please visit:
www.mghcgh.org/camtech
Increase availability of toilets, reduce incidence of rape
An article on NPRs June 9, 2014 online news is headlined: "How A Lack Of Toilets Puts India's Women At Risk Of Assault". Women are increasingly afraid to go outside to answer nature's call. (More than half of 1.2 billion people in India live without toilets.) "They fear for their lives performing the simplest bodily function."
Many women wait until it is dark outside to leave the house and relieve themselves. Two weeks ago, two teenagers were followed, raped, and hanged at a remote place in Uttar Pradesh. Many believe this would not have happened if the young women had access to toilets.
Households that can afford to build a latrine often don't. Social entrepreneur Bindeshwar Patak has offered to build a toilet in a rural Haryana village. "Resident Shelia Nahelia says her husband refused because of the expense. So Nahelia stitched clothes to raise $50, her family's portion of the cost and a small fortune for her."
As the outraged social movement grows, there is a "No Toilet, No Bride" campaign. India's former rural development minister, Jairam Ramesh, "would go out and exhort women not to get married into families that did not have a toilet. And this worked. In many parts of the country, women refused." Increased government assistance for building toilets has spurred construction, as has the issue of women's privacy.
See the article here.
India's declining sex ratio: imbalance of females to males
In the state of Chhattisgarh, the sex ratio at birth (SRB) had improved in the 2001 census, with 975 females to every 1000 males. A decade later, that has declined to 915 females to 1000 males, while the national SRB is at 909. Most societies in the industrialized world have a healthy child ratio, i.e. there are roughly the same number of girls and boys. One of the main reasons for the decline in the number of girls is female foeticide. Sex-selective abortions have been greatly facilitated by the misuse of diagnostic procedures such as amniocentesis that can determine the sex of the foetus.
In 2001, the state of Himachal Pradesh reported less than 900 females to 1000 females. R.S. Bora, an associate professor at the Institute of Economic Growth, Delhi researched the imbalance in the child sex ratio. According to a 2007 working paper by Bora,
the most problematic states are Punjab, Haryana, Himachal, Gujarat, Maharashtra, Chandigarh and Delhi. Except for Maharashtra and Rajasthan, a decline has been in the range of 45 to 77 points during the last census… This decline reveals that the phenomenon of son preference has reached alarming proportions in India's most prosperous states, rather than the most 'backward' ones.
Read the complete Times of India article.
India at the Forefront in Generic Pharmaceuticals
"Generic producers in India have brought down the prices of lifesaving drugs used to treat diseases such as HIV, TB and cancer by as much as 90%. In the 1990s, HIV/AIDS drugs cost $12,000 per patient a year which saved patients in the US but not in Africa. The world seemed to accept the unacceptable until in 2001 an Indian pharma company produced a three-in-one HIV/AIDS treatment for $1 a day."
In his May 30, 2014 Times of India article, Kiran Mazumdar Shah discusses how Indian pharmaceuticals keep drugs affordable. As the world's largest producer of generic drugs, he asserts that India's generics are critical to President Obama's affordable health program. "Data from the 2013 Generic Drug Savings in the US report shows that generic pharmaceuticals saved the American health system and patients $217 billion in 2012 and a staggering $1.3 trillion in the most recent decade."
see May 30, 2014 Times of India article
New India Health and Family Welfare Minister an ENT Surgeon
Promising "100 percent" transparent administration, Union Health Minister Harsh Vardhan on Tuesday said he would take advice from international experts on ways to improve the health system in the country.
"I would hold consultations with domestic and international experts on how to improve the health system in our country," Harsh Vardhan said after taking charge of the health and family welfare ministry at Nirman Bhavan here.
Vardhan is known for his efforts in eradicating polio in Delhi when he was the health minister.
see May 27, 2014 India Today article
"Health high on Modi's agenda–Industry awaits implementation"
as reported in May 19 Business Standard
India's Bharatiya Janata Party (BJP) aims to revamp the NRHM (National Rural Health Mission). Among the NRHM objectives was to decentralize the health delivery system in some of the poorest states. Narendra Modi is the head of the BJP and soon-to-be-sworn Prime Minister.
According to Sujatha Rao (Harvard MPA '90), former secretary in the health ministry and one who has worked in the healthcare sector for over 20 years, the new regime should decentralize and build capacites of the states and districts to plan and implement health policies. "Currently, NRHM is a Centre driven programme. There is a need for architectural correction in the system and states have to be made active partners in that," she emphasized.
Rao added the new government must institutionalize reforms to address complex healthcare challenges. "The Centre should focus on providing public goods like piped water supply, sanitation, public hygiene and access to basic health care," she said.
Complete article can be read here.
"Conflict of interest in setting norms for pharmaceuticals in WHO"
Rema Nagarajan reported in the May 17 Times of India:
"The World Health Organisation's (WHO) work of setting up norms and standards for production of medicines seems to be flawed by a fundamental conflict of interest. At the heart of its standard setting work is an entity, the International Conference on Harmonization (ICH), in which majority of the WHO member countries have no voting rights and which is dominated by pharmaceutical industry groups. This glaring conflict of interest seems to fly in the face of WHO's policy on engagement with private entities which states that the development of norms, standards, policies and strategies which lies at the heart of WHO's work would be protected from influence by any form of vested interest." Read more here.
State goes missing in healthcare in India; 70 percent is private
Z news New Delhi May 15, 2014 – More than 70 percent of healthcare in India is provided by corporate houses as a result of which poor people are not able to afford the high cost of medical care provided by private hospitals, health experts have said. Manoj Kumar Singh, senior pathologist at AIIMS said: "There are only 11 countries in the world which have lesser investment in healthcare than India. Every other country has more investment". See full article here.
Antibiotic Resistance Sweeping Developing World
"By most standards, the increasing availability of life-saving antibiotics in the developing world is a good thing. But, around the globe, overuse of these drugs has created resistant strains of deadly bacteria — and they could be a greater threat in poorer nations than in richer ones, owing in part to a lack of regulation. Such concerns come amid a stark warning [last week] from the World Health Organization (WHO)…The world, it says, is poised to enter a 'post-antibiotic' era. And in some places, that era has already arrived… The problem [also] seems to be particularly acute in the emerging economies known as the 'BRIC' states: Brazil, Russia, India and China…Up to 95% of adults in India and Pakistan carry bacteria that are resistant to β-lactam antibiotics — which include carbapenems, considered to be antibiotics of 'last resort' — according to research by Timothy Walsh, a medical microbiologist at Cardiff University…By comparison, only 10% of adults in the Queens area of New York carry such bacteria."
see May 6, 2014 nature: International Weekly Journal of Science article by Sara Reardon
The Global Diabetes Epidemic
Kasia Lipska discusses her "aha" moment in her personal experience as an endocrinologist working on the ground in southern India
"Twelve years ago, my husband and I packed up all of our belongings and moved to Trivandrum — a steamy, tropical town at the southern tip of India in Kerala. At the time, I was a medical student interested in studying stroke. For the next six months I dressed in a sari and walked to work on jungle roads. At the hospital, I immediately began seeing a steady stream of young patients affected by strokes, many of whom were so severely disabled that they were unable to work. I initially suspected the cause was tuberculosis or dengue fever — after all, this was the developing world, where infections have long been primary culprits for disease. But I soon learned that my hunch was wrong.
One of my first patients was a woman in her mid-30s who came in with a headache, vomiting and an unsteady gait. Her scan showed a brainstem stroke. Her blood sugars were very high. The underlying cause of her stroke was most likely untreated Type 2 diabetes. Here I was, halfway around the globe, in a vastly foreign culture, but I was looking at a disease — and the lifestyle that fostered it — that was startlingly familiar."
Lipska, Kasia. "Global Diabetes Epidemic." The New York Times 25 Apr. 2014.
World Immunisation Week: mobile app to remind parents of vaccine schedule
As part of World Immunisation Week, the World Health Organization (WHO) focuses on delivering health information directly to people's mobile phones and social media accounts to curb vaccine preventable deaths.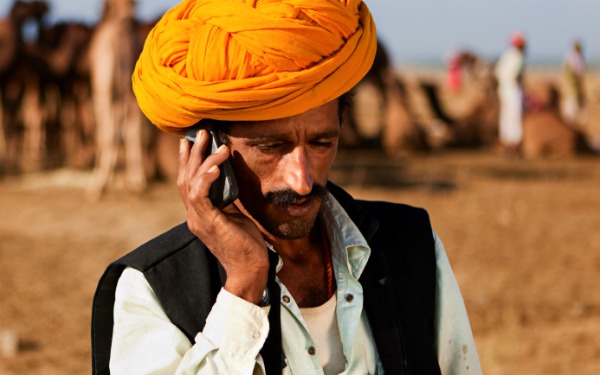 Application of technology and software to increase coverage of immunisation is a new trend. During this year's World Immunisation Week—April 24-30—WHO has urged people to keep themselves up to date about availability of vaccines and other related information.
In India, the app can be downloaded by searching for ACVIP (Advisory Committee on Vaccines and Immunization Practices) or IAP (Indian Academy of Pediatricians) Immunisation 2013 on Google Play. After installing it on mobile, its dashboard gives many options like recommended vaccines and immunisation table. If a user clicks on "vaccine reminder", it asks the user to give details of date of birth of the child, name, mobile and email id. An SMS and email are sent on the day of scheduled vaccination for a particular vaccine. Unfortunately, at this point the app is only available in English.
"Coverage for routine immunisation is 61 per cent in India. If we want to take it to better levels, then use of such technology is the most cost-effective intervention," said Panna Choudhury, paediatrician, formerly with Delhi government's Lok Nayak hospital.
It is important to note that, as of 2013, approximately 62% of the Indian population used mobile phones. Of those, roughly one in three of India's urban internet users have accessed a mobile phone application (an estimated 31% of the population reside in urban areas). Thus, while the number of individuals who have access to the technology is growing, there is still a shortfall in the national immunization rate for the time being.
Excerpts from: Singh, Jyotsna. "World immunisation week: mobile app to remind parents of vaccine schedule," 24 April 2014,"Down to Earth," an Indian science and environment online news service established by the Society for Environmental Communications.
News from Harvard Global Equity Initiative, April 2014
Kolkata Group, led by Amartya Sen, calls for health system reform in India to achieve universal health coverage
The 2014 Kolkata Group meeting titled "Curing India's Health System: Learning from Asian Experiences" convened close to 50 participants from diverse backgrounds including academics, policy makers, activists, and practitioners, to discuss India's dismal state of health services as compared to other better performing Asian counterparts such as Thailand, China, and Bangladesh.
Based on a foundational recognition of healthcare as a fundamental human right, the Kolkata Group called for both an integrated approach to healthcare and a comprehensive understanding of healthcare that includes nutrition, and water and sanitation. Priorities highlighted for India include the adoption of a single-payer national health insurance scheme to address equity in access and coverage, promoting transformative medical training and high ethical conduct to provide comprehensive primary healthcare, and sustained and effective stewardship to provide a vision for reforming the Indian healthcare system.
Harvard Global Equity Initiative (HGEI) Research Associate, Afsan Bhadelia, and HGEI Scientific and Research Collaborator, Suneeta Krishnan, participated in this year's meeting. The Kolkata Group, Chaired by Nobel laureate Prof. Amartya Sen, also Chair of HGEI Steering Committee, is a high-level meeting that explores the interconnections between inequality, deprivation, human development, and democracy, focused especially on improving health and education. The Kolkata Group is supported by UNICEF India, the Pratichi Trust, and HGEI. The full statement of the 2014 Kolkata Group is available here.
The High Incidence of TB in India and Increase in Drug Resistant Strains
Tuberculosis is one of the biggest killers in India today, with two million cases diagnosed annually. Many TB patients turn to private doctors who may not have been trained in the proper treatment of the disease. There is a growing number of patients who then develop a drug resistant strain of TB, making it harder to treat the disease.
see March 23, 2014 Australia Network News article
Swasthya Slate introduced in northern India: Using Smart phone app to screen people against various illnesses
Swasthya Slate, a health tablet using a smart phone app, was released in Jammu and Kashmir, a northern state in India. Swasthya Slate is a tablet device that allows users to perform multiple diagnostic tests using an android phone or tablet. These tablets facilitate conducting of diagnostic tests. They also store each patient's electronic medical records. Health workers and doctors can access them whenever needed, thereby ensuring a continuity of care for the patient.
Pilot runs to test the efficacy of the tablet were conducted in Himachal Pradesh and Punjab. The brainchild of Dr Kanav Kahol of the Public Health Foundation of India (PHFI), Swasthya Slate will help government health workers keep tabs on the overall health of the community.
as reported in The Times of India, February 17, 2014
Millennium Development Goals: where India stands
India still has work to do in terms of reaching the MDGs goals. "Down to Earth" provides a slide show demonstrating the progress in the various goals.
India opening school of public health in Raipur
The All India Institute of Medical Sciences (AIIMS), Raipur, received approval for setting up a School of Public Health (SPH) within the premises of the Institute to carry out Research Projects.
See January 14 article in The Times of India.
Breakthrough in pain management: India passes resolution 
The process through which doctors in India may now prescribe pain medication has been streamlined, a relief for millions of people suffering chronic pain. The Rajya Sabha (upper house of parliament) approved amendments to the Narcotic Drugs and Psychotropic Substances Act (the Drug Act), India's drug law, on February 21, 2014.
"The revised Drug Act is very good news for people with pain in India," said Diederik Lohman, senior health researcher at Human Rights Watch. "These changes will help spare millions of people the indignity of suffering needlessly from severe pain." (Lohman, qtr in Human Rights Watch news, February 21, 2014). See article here.
Pneumonia, the giant killer
Every year, pneumonia kills four lakh Indian children, which is more than measles, malaria, HIV/AIDS and injuries combined. But the disease can be prevented by spreading awareness and the proper usage of vaccines. More details can be found in the February 27, 2014 Deccan Herald article by Dr. Jagdish Chinnappa, a pediatrician in Bangalore.
New initiatives in India to reduce maternal/child deaths
In February 2014, the Public Health Foundation of India (PHFI) released Innovations in Maternal Health – Case Studies from India. Dr. Jay K. Satia (Senior Vice President at PHFI), along with Madhavi Misra, Radhika Arora, and Sourav Neogi, compiled the studies. It presents reports on twenty-three innovations from the area of Maternal and Newborn Health. These innovations have been written in the case-study style for teaching, which will be beneficial for capacity building initiatives for health-care professionals. These descriptive cases cover innovative programmes, initiatives and technologies implemented in India. The innovations range from developing low cost incubators for low-birthweight babies to creating a dedicated transport service named Janani Express to ferry pregnant women to hospitals.
Professor Satia said the use of such programmes and technology in clinical and non-clinical settings is one way to accelerate initiatives to improve maternal health and reduce infant mortality.
One of the ways to use existing innovations is through documentation and the dissemination of information on innovations already piloted.

Read more: New Initiatives in India to Reduce Maternal, Child Deaths | Medindia  
Google Glass used in yet another surgery, this time in India
Google Glass is a wearable device, eyeglasses that provide augmented reality features. The hardware includes Wi-Fi and Bluetooth capabilities (can work with Android and iOS devices), cameras, voice-activation commands, and a heads-up display. A team of doctors led by US-based orthopaedic surgeon Selen G Parekh performed a foot surgery recently with the help of the Google Glass, using the technology on board to broadcast the surgery live on the internet and to share the information with other doctors, recently.
The surgery took place at an Indo-US conference in Jaipur headed by Dr. Ashish Sharma. The technology allowed Dr. Parekh in Jaipur to view X-Rays and MRI data while working on the patient simultaneously. Dr. Sharma, head of the American team of doctors present at the conference, also said Google Glass allows a doctor to communicate with a patient's family or friends during the procedure.
Dr. Sharma described the benefits, saying: "The image which the doctor sees through Google Glass will be broadcasted on the Internet. It's an amazing technology. Earlier, during surgeries, to show something to another doctor, we had to keep moving and the cameraman had to move as well to take different angles. During this, there are chances of infection. So, in this technology, the image seen by the doctor using Google glass will be seen by everyone throughout the world," he said. 
Rural areas could also benefit, wherein a doctor could remotely examine a patient who is unwell. Google shipped 8000 of their Google Glasses as a part of their ongoing testing, 'Explorer Program' wherein they sent out the glasses specifically to testers across the globe.
News sources: Daily News and Analysis based in Mumbai, and NDTV gadgets India's first Gadget app
India Nowhere Near Millennium Development Goals
Only three states in India have so far managed to reduce maternal mortality rate to less than 109 deaths per 100,000 live births—a millennium development goal (MDG) for 2015. So far, only three states–Kerala, Tamil Nadu, and Maharashtra have reached the goals.
Read complete article by Jyotsna Singh in January 2014 Down to Earth online news publication.
India's Kumbh Mela: Health Considerations
The Kumbh Mela is a mass Hindu pilgrimage of faith in which Hindus gather to bathe in a sacred river. The public health challenges and opportunities of the Mela are enormous.  Two teams at the School, together with Indian counterparts, were at last year's event focusing on different aspects of health involved at the Mela: the FXB Center for Health and Human Rights, as well as the Department of Global Health and Population (GHP).
The first team, including Dr. Jennifer Leaning from the FXB Center for Health and Human rights, gathered data about the temporary hospitals at the Mela. This  team worked closely with the festival's health administrators, local public health students, and volunteer researchers on a health surveillance study at the Kumbh Mela, which aims to collect daily data on every patient visit at a representative cross-section of Kumbh Mela sector hospitals. The group seeks to understand how disease occurrence during the Kumbh Mela may be clustered.
Results from the surveillance team could be useful to the Kumbh Mela health care providers as it identifies spikes in disease and trends seen in real time. Data and results will be shared with officials and local health care providers, and could shed light on planning for subsequent religious gatherings. One of the major concerns in any urban area is the spread of epidemics.  The method employed by this team provides an effective early warning system for public health officials all over the world to use to track and prevent major outbreaks of diseases.
The second team, lead by Dr. Richard Cash, a professor from GHP, mapped and documented the various kinds of toilets being used at the Kumbh, as well as the provisions that were made by public health officials for potable drinking water.  While the number of toilets was insufficient during large bathing days, the team was impressed by the implementation of this infrastructure.  The lessons learned from the building of these systems on a mass scale in a short amount of time are huge for the developing world.
The Harvard project, "Mapping India's Kumbh Mela," is coordinated by the South Asia Institute at Harvard University (SAI) and the Harvard Global Health Institute (HGHI), and includes project faculty from the Graduate School of Design (GSD), the Faculty of Arts and Sciences (FAS), Harvard Business School (HBS), Harvard Divinity School (HDS), and T.H. Chan School of Public Health.