Gillian Franklin, MD, MPH, PhD is a Yerby Postdoctoral Research Fellow, in the Department of Environmental and Occupational Medicine and Epidemiology at the Harvard School of Public Health. Gillian is a trained dermatopathologist and public health professional whose research examines environmental exposures that may affect the skin and other organ systems via skin exposure. The focus of her Ph.D. dissertation work was on isocyanates in medical devices and consumer products, and the potential for residual isocyanates from these devices and products to be absorbed through the skin of neonates, leading to sensitization, thus possibly putting them at risk for developing childhood asthma in the future. As a Yerby Fellow, Gillian will study two significant aspects of arsenic-induced skin lesions: 1) an epidemiologic study assessing cumulative arsenic exposure in premalignant skin lesions in a Bangladeshi population who were chronically exposed to inorganic arsenic from natural deposits in their drinking water supplies, and 2) applications of toxicogenomic analysis of arsenic-induced skin lesions, assessing gene expression and DNA methylation. Her postdoctoral mentor is Dr. David Christiani.
John Jackson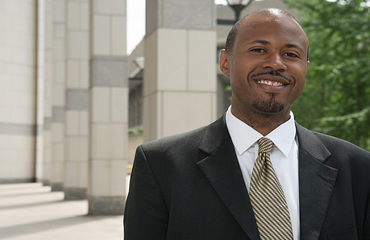 His work focuses on understanding and reducing the excess morbidity and mortality in patients with mental illness, and uses state-of-the-art methods to provide insight about the effectiveness of potential interventions. Dr. Jackson earned his ScD in epidemiology from the Harvard School of Public Health with a concentration in psychiatric epidemiology. From 2011 to 2014, he trained in the Division of Pharmacoepidemiology and Pharmacoeconomics at Brigham and Women's Hospital as a predoctoral trainee and postdoctoral research fellow, where his work focused on the safety and utilization of antipsychotic medications, as well as methods for comparative effectiveness research. From 2002 to 2007, he managed a research study for the Center for Health Disparities Solutions at the Johns Hopkins Bloomberg School of Public Health. Dr. Jackson obtained his BS in biochemistry and molecular biology from the University of Maryland Baltimore County where he graduated Phi Beta Kappa and is a Meyerhoff Scholar and Marc U* Star (Minority Access to Research Careers – Undergraduate Student Training for Academic Research) Alumnus.
Barnabas K. Natamba, PhD MPH is Yerby Postdoctoral Research Fellow in the Department of Epidemiology. Barnabas' research focuses on developing methods for assessing the interrelationships among food and nutrition, infectious, and mental health exposures and outcomes in low and middle income countries. His previous research focused on developing methods for assessing food insecurity, weight gain and depression among pregnant women of mixed HIV status in northern Uganda. During the course of the Yerby fellowship, Barnabas aims at expanding his focus to (1) developing methods for concurrently assessing common mental disorders (depression, anxiety and stress) globally, (2) using biomarkers to predict nutritional and mental health outcomes among pregnant and lactating women and their infants, and (3) gaining advanced analytical skills in modeling longitudinal data. Barnabas holds a PhD in Nutritional Sciences from Cornell University, Ithaca Campus and a Master's degree in Public Health from the Braun School of Public Health and Community Medicine, The Hebrew University of Jerusalem, Israel. His postdoctoral mentor is Prof. Michelle Williams.
Yusuf Ransome, MPH., DrPH., is an Alonzo Smythe Yerby Fellow in the Department of Social and Behavioral Sciences at the Harvard T.H. Chan School of Public Health. Dr. Ransome received a Master of Public Health from the Department of Health Behavior and Health Education at the University of Michigan School of Public Health, and  Doctor of Public Health from the Department of Sociomedical Sciences at Columbia University Mailman School of Public Health. Dr. Ransome also received training in Health Disparities Research, and Program Evaluation.
Elkhansa Sidahmed
Elkhansa Sidahmed, is a Yerby Postdoctoral Research Fellow in the Department of Nutrition. She completed her undergrad in Science with Honor in Nutrition from University of Khartoum, Sudan and Master in Biochemistry, Molecular & Cell Biology from Georgetown University, Washington DC. After she earned her Ph.D in Environmental Health Sciences, majoring in Nutrition, from the University Of Michigan School Of Public Health. Her Ph.D. thesis research focused on understanding the mechanisms by which the Mediterranean diet intervention affects the biomarkers related to colon cancer development. During her Postdoctoral fellowship training she will be working under mentorship of Dr. Stephanie Smith-Warner. Her research goals are: 1) to study the association between nutrients and food intake with colorectal cancer risks and survival in the Nurses' Health and Health Professionals Follow-Up cohorts; 2) to examine the associations between dietary intake and risk of both breast and prostate cancer using the data from the Diet and Cancer Pooling Project.
Fred Tabung is a Yerby Postdoctoral Research Fellow in the department of Nutrition under the primary mentorship of Dr. Edward Giovannucci. Fred's main research interest is the interaction between dietary and genetic factors, and the role of inflammation; in cancer prevention and control, especially cancers of the prostate, colorectum and breast. His previous research focused on the role of the inflammatory potential of diet (assessed using a novel dietary inflammatory index) in the prevention of breast and colorectal cancers. Working under the co-mentorship of Dr. Lorelei Mucci in the department of Epidemiology, Fred is examining the role of diet, other lifestyle and genetic factors on lethal prostate cancer and on inflammation in the prostate. Fred holds an M.S.P.H. and Ph.D. degrees in Epidemiology from the University of South Carolina.
Dr. Watson has a BS degree in Cell Biology from North Carolina A&T State University since 1999. In 2004, she obtained her MS degree from North Carolina A&T State University/Wake Forest University, in Cancer Biology with specialty in complementary and alternative medicines for the treatment of cancer. After a brief stint in industry, she obtained her PhD in Energy and Environmental Systems with specialty in Environmental Toxicology in 2011. Currently, she is a Postdoctoral Fellow at Harvard School of Public Health. Her research aim is to investigate the genotoxicity of nanoparticles and novel mechanisms of nanotoxicity in biological systems.