We know that the first day on a new job can be exciting… but can also be overwhelming. You will be introduced to new people, new policies and procedures, new responsibilities, and a new culture. This portal was designed to help equip you with the tools and resources you need to help ease your transition to SPH.
Outlook Email | Harvard PIN | PeopleSoft | HARVie | Benefits and Enrollment | Fitness | Health & Safety | Information Security & Confidentiality | Harvard Policies & Procedures
Harvard University Identification Number and Harvard ID Card 
Harvard identification numbers are issued to all staff members. A Harvard ID number and/or ID card is needed to obtain library privileges (including on-line resources), to gain access to the M2 shuttle, to gain access to athletic facilities and museums, to use the Harvard
Housing Office, to receive event discounts, etc. As soon as the University's Payroll Office has completed processing a staff members paperwork, including the I-9, the individual can go to the the School's ID Office (ground floor of the Kresge building) to have his or her photograph taken for the ID card.
Getting Your ID:
There are three forms that are needed in order to obtain a Harvard ID card—they are as follows: Harvard ID Form, Risk Assessment Form, and an Animal Related Risk Fact Sheet. These forms can be found in your HR Office or with your Department Administrator. On or after your first day, please work with your supervisor to complete the forms and to determine if any immediate trainings are required. From there, bring the completed forms to the ID Office located in the School of Public Health, Kresge Building, Room 119 (open Monday-Friday, from 8:00am to 4:00pm). Note that all non-lab personnel will be required to watch the Right to Know video. If your training is complete or if there is no additional trainings required, the ID Office will issue a Harvard ID card immediately. If training is still required and to be completed at a later time, the office will issue a 30 day temporary ID and provide instructions on how to proceed.

Outlook Email
Each employee at Harvard will create a self-service email account. Your Department Administrator will forward you an email with instructions to initiate this  process. New hires can claim their Office365 account, which includes email, OneDrive, Sharepoint, Teams, etc by using the Harvard Key website and following the Detailed Instructions Page. Please make sure you set up your new account as soon as you can. If you do not have an account set up yet, please contact your Department/Center Administrator and/or designee.

HarvardKey

HarvardKey is Harvard University's unified online user credential, uniquely identifying you to Harvard IT applications and services to grant you access to the resources you use every day. Please note, your Department/Center Administrator and/or designee must have a personal email address on file in order to grant you access to obtain a HarvardKey. Please make sure you have provided s/he with this information. Please also note that once you have your HUID#, you can go to the HarvardKey website to claim your HarvardKey. To claim your HarvardKey, you'll be asked to enter your HUID, last name, and date of birth. Once claimed, your HarvardKey will give you access to certain resources that you use every day – including PeopleSoft, HARVie, Eureka and others systems. 

HARVie
HARVie is Harvard University's intranet, designed to be a one-stop-shop for all things Harvard-related including – Benefits, Compensation, Policies and Procedures, Outing and Innings, Forms and Tools and much much more! Log on now to learn more about Harvard!

Time Reporting and Absence Management

PeopleSoft Time Reporting and Absence Management – PeopleSoft helps you keep track of your time worked and current balances for vacation, sick, personal, and other time off. In order to access PeopleSoft, you will need to have a PIN. For HUCTW/Overtime Eligible Employees, please note that if time is not reported before the end of the week, you risk not being paid. Make sure to report your time before Thursday at 5:00PM each week.
More information/resources on PeopleSoft Absence & Time Reporting in the Harvard Training Portal.
Note on Paychecks: Harvard University staff are paid on a bi-weekly basis (26 pay periods per year). You can enroll in direct deposit and complete tax information in PeopleSoft self-service.

Benefits and Benefits Enrollment

Harvard offers a full range of benefits to keep you and your family healthy, provide financial protection in the event of an unforeseen event and help you build long-term security for retirement.  Created by the Harvard Benefits Office, these Harvard Benefits Videos give insights and tips into navigating the Harvard Benefits available to you! Additional information on retirement, tuition assistance, medical/dental plans, and MBTA discounts, and more can be found on both the Benefits Department website and the Total Rewards website.
Enrollment –  Benefits-eligible employees will only have 30 days to elect/opt out of benefits coverage (from date of hire). If you have any questions regarding benefits enrollment, please contact the Benefits Services Group at (617) 496-4001.
Health Benefits – Within two weeks of your date of hire, you should receive an enrollment guide packet at your home address. This packet will include information regarding Harvard's benefits. Additional information is also located on HARVie.
Benefits Office Hours – New employees can schedule a meeting, with a Benefits representative, to discuss retirement, insurance, and/or flexible spending (or any of your other benefits). Please contact the Benefit Services Group at (617) 496-4001 to schedule an in-person, confidential appointment on a Friday between 9:00 a.m. and 5:00 p.m.
You can enroll for benefits online via PeopleSoft. If you have not received your enrollment package, please contact the Benefit Services Group at (617) 496-4001.
Looking for discounts and other services provided to you as a Harvard Employee? Visit Harvard Strategic Procurement to see more!

Harvard Vanderbilt Hall Athletic Facility

Vanderbilt Hall is the closest Harvard affiliated gym in the Longwood Area. Read below regarding this great and nearby resource!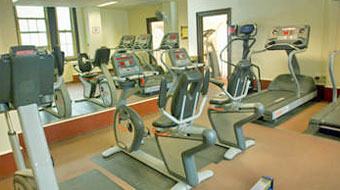 $40 per month Payroll Deduction or $480 annually (prorated through June 30th, 2013)
Hours: 6:30AM – midnight, 7 days/week
Individualized Exercise Programs
Group Fitness Classes including Yoga and SPIN, Intramural and Recreational Programs
Guest Privileges and Locker facilities available
Cardiovascular Equipment, Strength Training Equipment and Recreational Facilities
More information on Vanderbilt Hall. Contact them at (617) 432-1929 or athletic_vanderbilt_hall@hms.harvard.edu 
Fitness Benefit Reimbursement:
The SPH fitness benefit provides financial assistance to faculty, staff and postdoctoral fellows who wish to enhance their well being through a membership to a health club of their choice. The benefit can be used to pay for individual or family memberships to health clubs.
– Available after one full year of service at the School
– Funds renewed every fiscal year
– $350 for up to 5 years of service ($550 for 5 or more years of service)
More information on the fitness reimbursement.

Health, Safety and Security

Your health and safety is paramount to us at Harvard. Please make sure to read through the resources below which are aimed at keeping you and others healthy, safe, and secure — whether you're sitting at your desk or traveling abroad.

Information Security and Confidentiality/IT Services

Data security at the institutional level has become increasingly important, and we would like to share a number of important updates on measures taken by HSPH and Harvard University.
In an effort to educate the community on responsibilities, policies, procedures and technology at work, the Information Technology department hosted a security briefing for the community. See below for more:
Presenters include:
Taso Markatos, former Chief Information Officer
Andrew Ross, Security Manager
Visit Harvard's Information Security page for more information. More information on Information Security and Privacy Policy.
Desktop Computing resources are available. 
Additional resources and services provided by the IT Team.

SPH and Harvard Policies and Procedures
The following policies are natural outgrowths of the School's position as a global citizen and leader in the field of public health research.
Other Resources: Harvard Human Resources has many additional resources available to new employees.